If you are visiting Thailand in mid-April, be prepared for a wet and wild time. Billed as the world's biggest water fight, Songkran, also known as Thai water festival, will see adults unleash their "inner child". It is also one of the many ways to beat April's sweltering heat.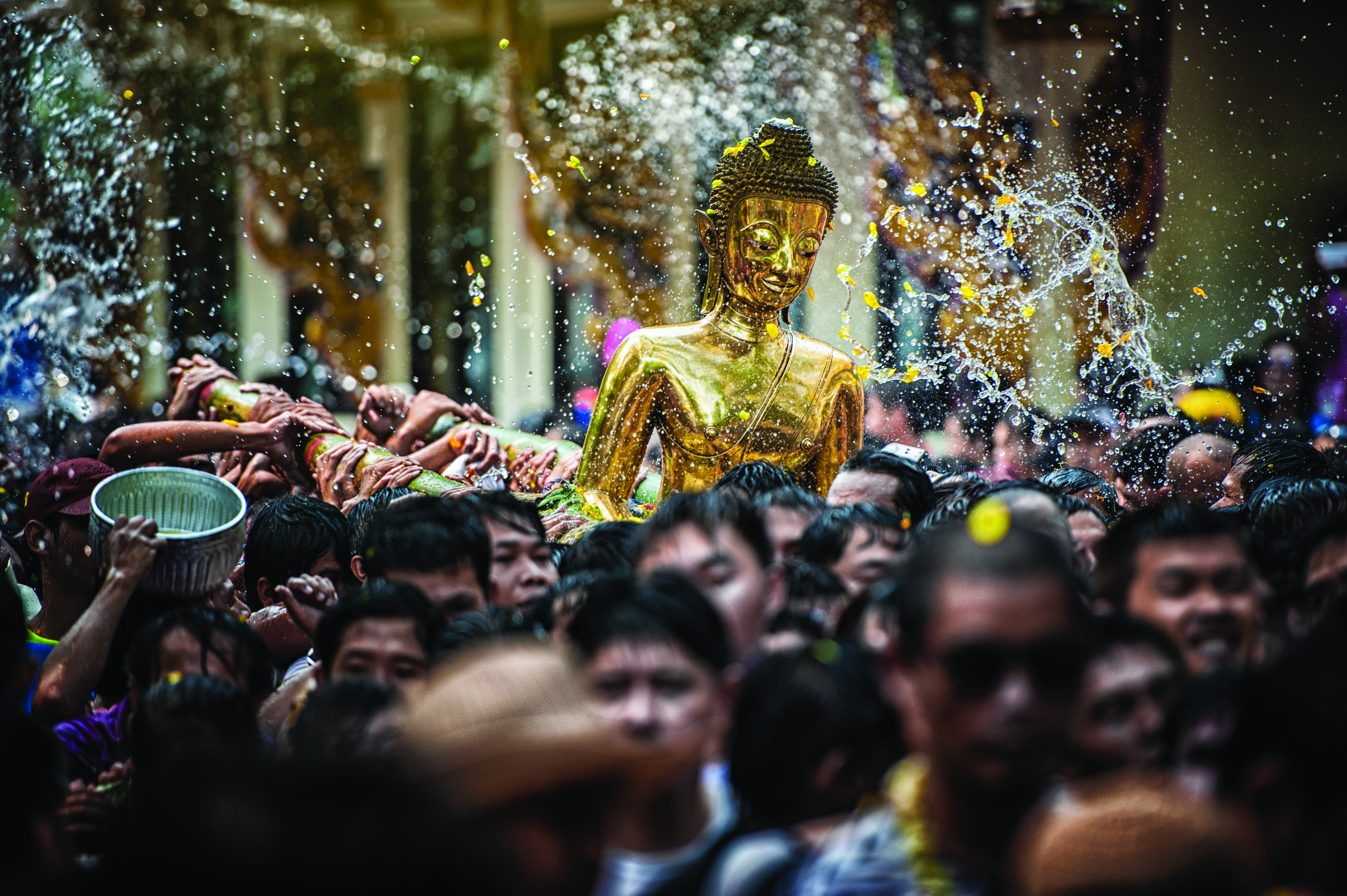 WHAT IS SONGKRAN
Origins
Rooted in ancient India, the word Songkran is derived from Sanskrit, meaning "Astrological Passage" or change. The festival marks the day the sun leaves Pisces and enters Aries, having finished its orbit around the earth. It also marks the end of the dry season and the start of the rainy season. An exodus from urban centres occurs when Thais return to their hometowns to spend time with family and pay respects to their ancestors.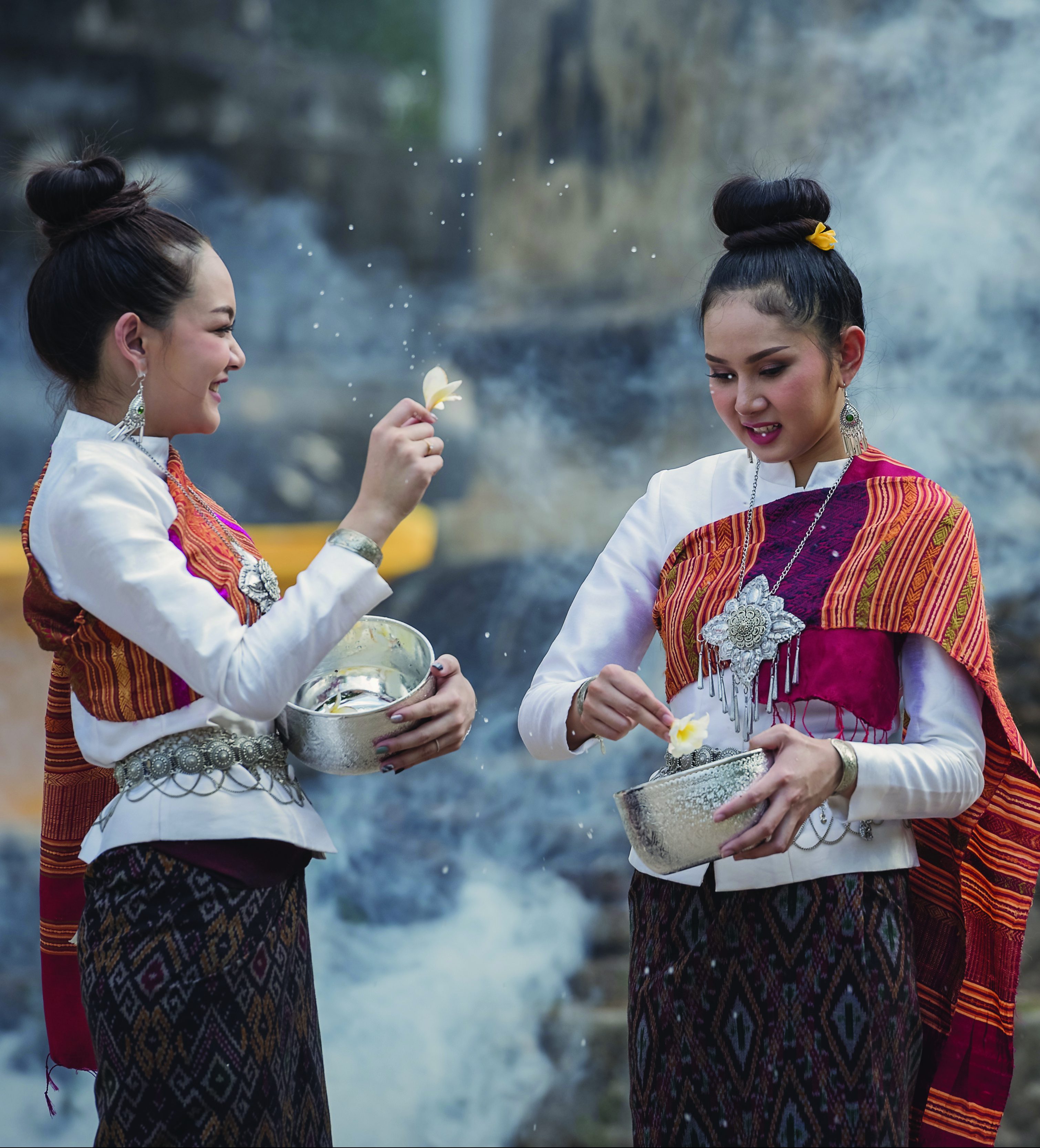 Day 1
National Elderly Day when Thais pour fragrant water on the palms of their elders and ask them for blessings. An annual "Miss Songkran" parade and floral floats are part of the popular festivities.
Day 2
National Family Day when families give alms to monks before spending the day together. This is an auspicious day when people avoid uttering impolite words.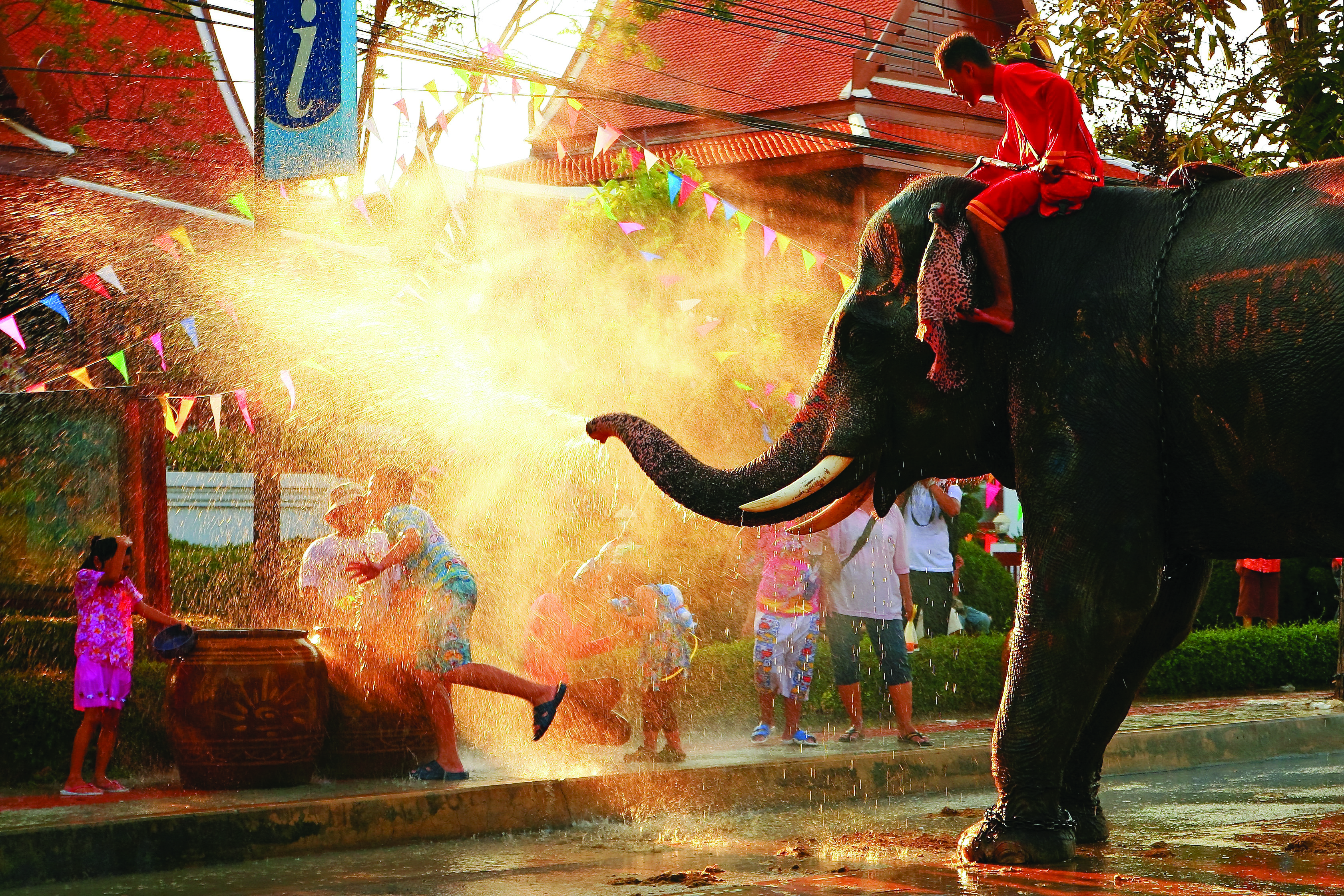 Water Origins
Traditionally, families use small bowls of water to pour over each other for luck and good health. This has evolved into party-like street water "fights" using buckets and water pistols.
Sand Origins
Buddhists take small bags of sand to the temple to symbolise returning the dust they have carried away on their feet when they visited the temple over the past year. The sand is then sculpted into small stupas decorated with flags in honour of the Buddha. Some temples hold competitions which result in huge, elaborate sand sculptures. Thais also apply a white pasty powder on each other's face or neck as a sign of protection and promise to ward off bad luck.
WHAT TO EAT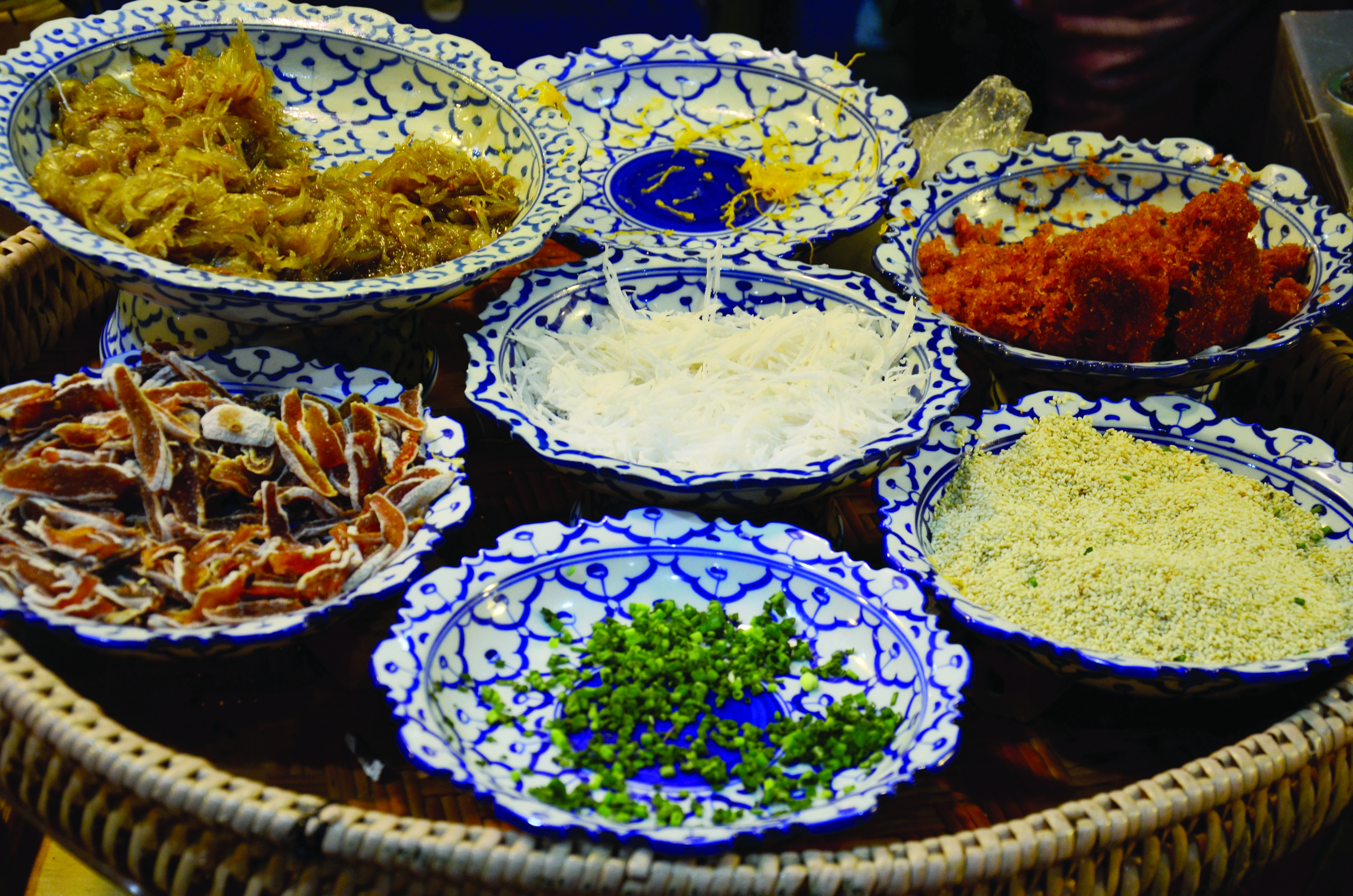 Cool Delicacy
If the deluge from the water fights doesn't turn the heat down enough, try feasting on khao chae ("khao" means "rice" and "chae" means "to soak"). Only widely available from mid-March until the end of April, this Songkran speciality comprises ice-chilled rice in jasmine-scented water served with side dishes. These dishes include sweet pepper, deep-fried battered egg, stuffed shallots, deepfried shrimp paste, sweet fish, salty beef, and pickled vegetables and fruit.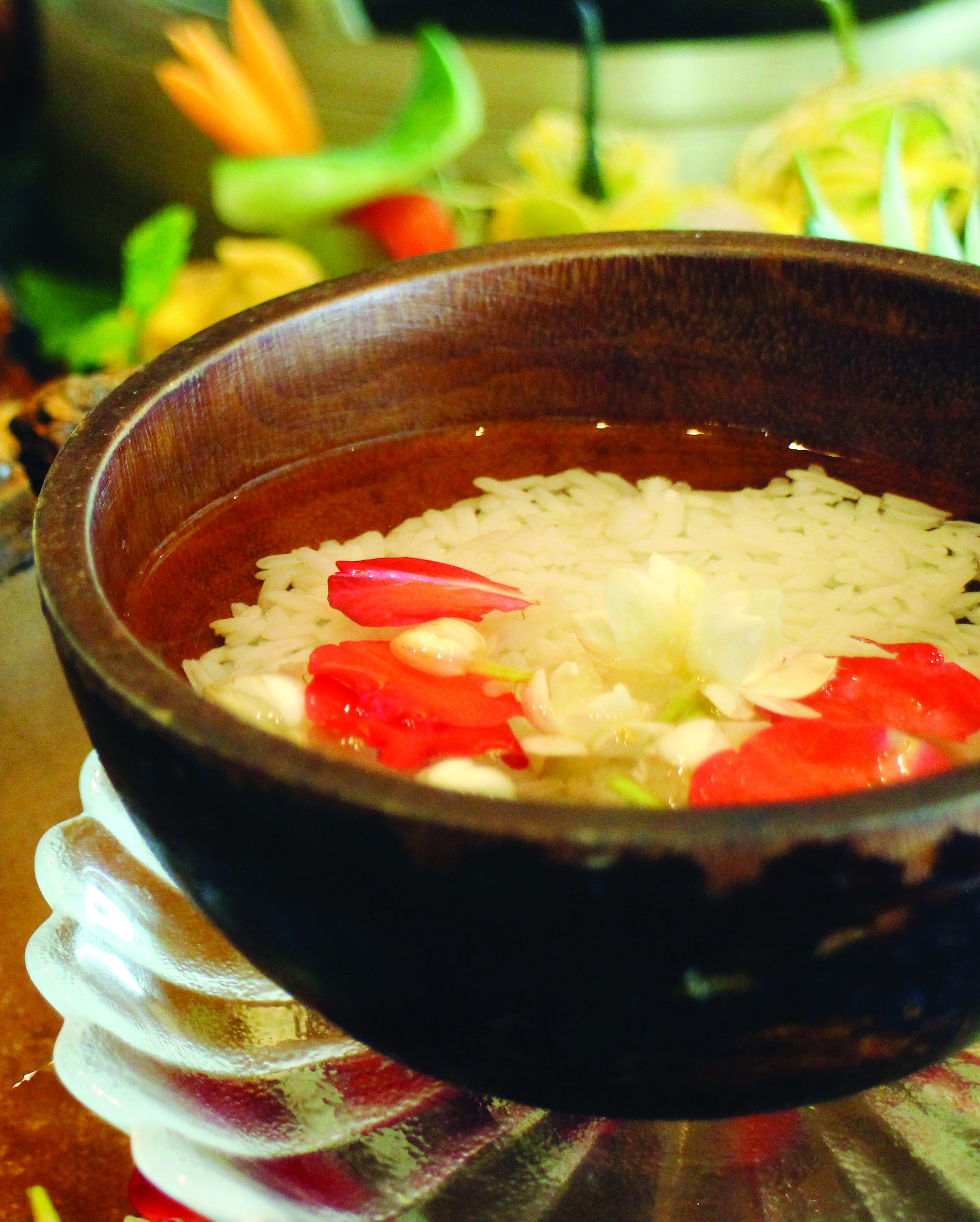 The way to eat khao chae is to have a small bite of a side dish, then follow up with a spoonful of the icy rice. Along with a very long list of ingredients, preparing khao chae is challenging and time-consuming.
Origins
The Mon people from Myanmar first created this special dish as a gift for the gods during Songkran. In the 1800s, it was served only in the palace but from 1910 the delicacy was enjoyed throughout Thailand. In the past, when there was no freezer to make ice, water was cooled in earthen pots away from the heat.
SONGKRAN AROUND THAILAND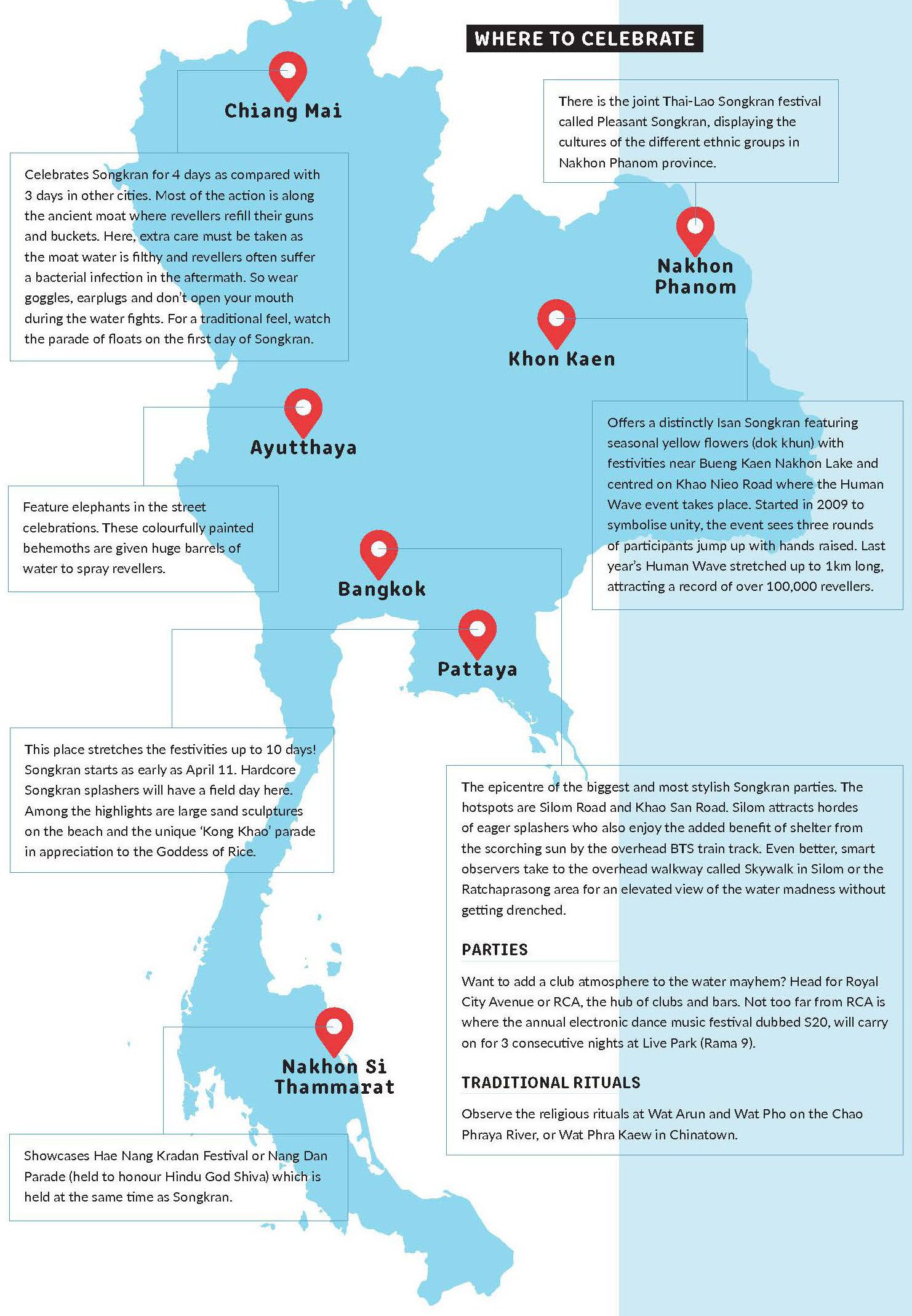 SONGKRAN FESTIVALS AROUND SOUTH EAST ASIA
Cambodia: Chaul Chnam Thmey | 14 – 17 April 2018
Cambodian New Year offers no water-splashing. On the first day of Songkran, Cambodians go to shrines to light candles and incense and pay homage to the Buddha. They play games, eat traditional food and use holy water to wash their face in the morning, chest at noon and feet in the evening.
Laos: Pee Mai Lao | 14 – 16 April 2018
Lao New Year shares many of the features of Thai Songkran. In Luang Prabang, the celebrations can stretch to 7 days. The highlights include thousands of sand stupas which line the banks of the Mekong River and the procession of Prabang, one of Laos' most celebrated Buddha images, which gave Luang Prabang its name.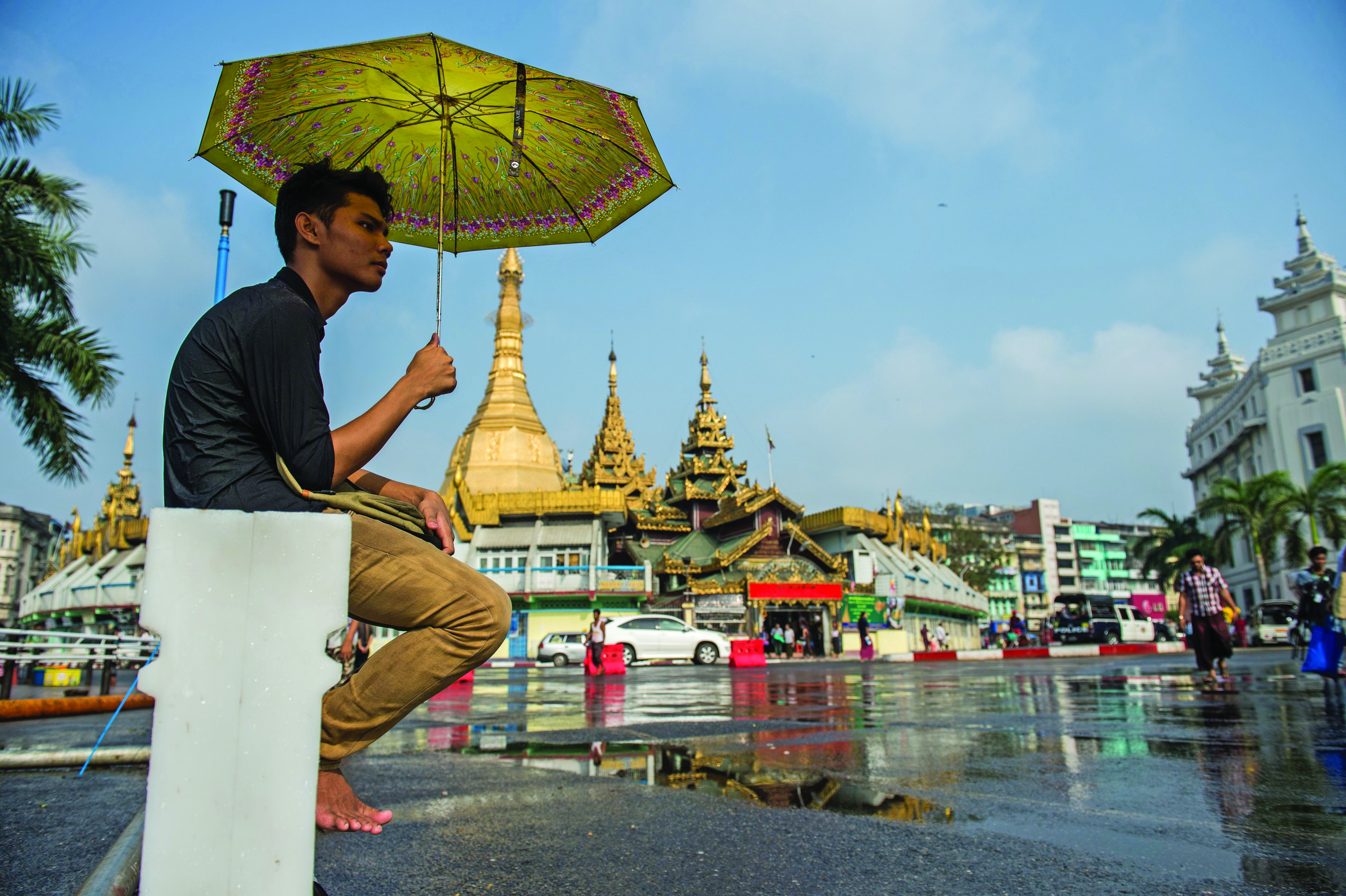 Myanmar: Thingyannew Year | 13 – 17 April 2018
New Year Festival holds similar water fights but with the addition of traditional food donations called Satuditha. Revellers get to enjoy free coffee, fried noodles and traditional festive snacks such as rice dumplings made with palm sugar.
Words by Angela Goh