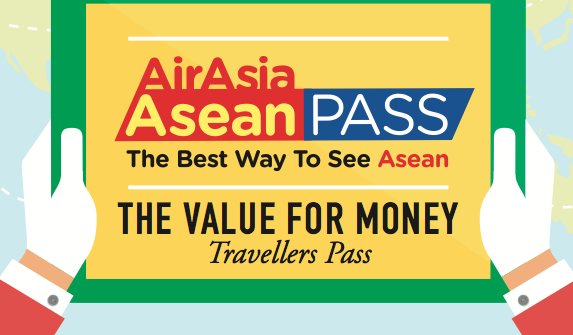 Travellers that plan to zip around South East Asia can now do it in an affordable way thanks to the AirAsia Asean Pass, that uses a credit system to redeem multiple AirAsia flights to various destinations. Here, we give you the scoop; explaining how it works while giving you some ideas on how to utilised those credits to the fullest extent! After this, the value for money AirAsia Asean Pass might just be your new best friend.
HOW IT WORKS
The AirAsia Asean Pass basically uses credits to redeem flights. So, travellers that plan to visit multiple countries can use up their credit to be exchanged for flight tickets. This removes the need to pay for multiple individual flight tickets and just pay for that one pass. There are two options for the pass, 10 credits or 20, depending on how much you want to travel and how long you have. The key is to be smart with your choices so you can make the most out of your credits.
SPOILED FOR CHOICES
Where can you fly to and how much credit does a one-way flight cost? Well you can use your credits to travel to over 80 destinations in the Asean region that include countries like Malaysia, Thailand, Philippines, Vietnam, Cambodia, Laos, Myanmar, Indonesia, Singapore and Brunei. Credits utilised per one-way flight are either 1, 3 or 5 depending on your country of take-off and intended destination.
Example of credit fare:
ROUTES FOR YOUR DREAM ADVENTURE
Planning your South East Asian adventure is a breeze depending on the type of traveller you are. The AirAsia website has a couple of destination lists to inspire your credit usage, each catering to a different type of traveller like foodies or dive enthusiast. Check out our GOASIAPLUS recommended route pitched by our very own editor where one can visit 4 countries with less than 10 credits.
Editor's Pick: GOASIAPLUS Route:
Facts
If you have extra baggage or intend to eat on the flight, do remember to pre-book your add ons as the Asean Pass only covers your base fare.
All flights need to be booked 14 days in advance.
You can only travel a route one time, which means if you did a round trip from KL to Jakarta, you can't redeem the same route again.
Find out more at airasia.com/aseanpass