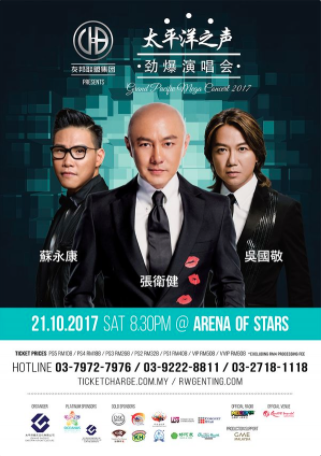 Malaysia's very own Hong Kong craze is dated back to 3 decades ago in their subscription of music, drama and movies. This year, Grand Pacific Entertainment Culture Sdn Bhd holds a mega concert in Genting on 21st October through the collaboration of 3 major Hong Kong artistes.
Stars of the Night
You can anticipate to see long time buddies, Dicky Cheung Wai Kin, William So Wing-Hong and Eddie Ng Kwok-king, gracing the stage at Genting Arena of Stars with their lively personalities and soulful voices.
Dicky Cheung made his international breakthrough in the acclaimed TVB drama "Journey to the West" while William So break hearts from the popular "Healing Hands" drama both through acting and singing the OST. Eddie Ng, another decorated persona who have won multiple music awards and produced platinum albums, will be singing for the first time here in Malaysia.
Get Your Grand Tickets
This concert will be held at 8:30pm at Genting Arena of Stars on 21st October. To meet the three sensational artistes, you can pick hall seatings from VVIP to the elevated bench chairs. Price starts at RM108 from PS5 to RM608 for VVIP. View the seating map here.
For more information, please call +603 2718 1118 or visit www.rwgenting.com