Perhentian have established as a popular beach destination in Malaysia, but were originally a break in the long journey between Bangkok and Malaysia ("perhentian" in Bahasa Malaysia means "stopping point"). Though the islands were majorly supported by fishing income early in their history, they are now becoming part of Pulau Redang National Marine Park and fishing is strictly prohibited. Consequently, tourism is now their primary source of income, and the astounding beauty of the fine sand beaches, crystal-clear water and thriving marine life has result a boast in tourists.
TRAVELING THE PERHENTIAN ISLANDS
Being split down into two separate islands, Besar ("Big") and Kecil ("Small"), each Perhentian offers a specific kind of relaxation and abundance. Besar is actually more isolated than the other and as its name would suggest, is slightly much bigger in size. Beaches dot the border of the island but the center is a twisted labyrinth of forest and rough rock. The resorts on Besar are known to be far more expensive and cater mostly to honeymooners from couples to newlyweds. In contrast, Kecil offers two main beaches that are perfect for the backpacker set, with the quieter Coral Bay as a sunset-watching haven and Long Beach renowned for its festivities and, unfortunately, for petty theft.
Opposite to the Gili Islands in Indonesia or Thailand's aquamarine Andaman coast, there was considerably less alcohol you can find on the Perhentian Islands — at least in 2009! There were still some bars on Long Beach, but the cost and limited selection means that most tourists bring their own poison or forgo it altogether.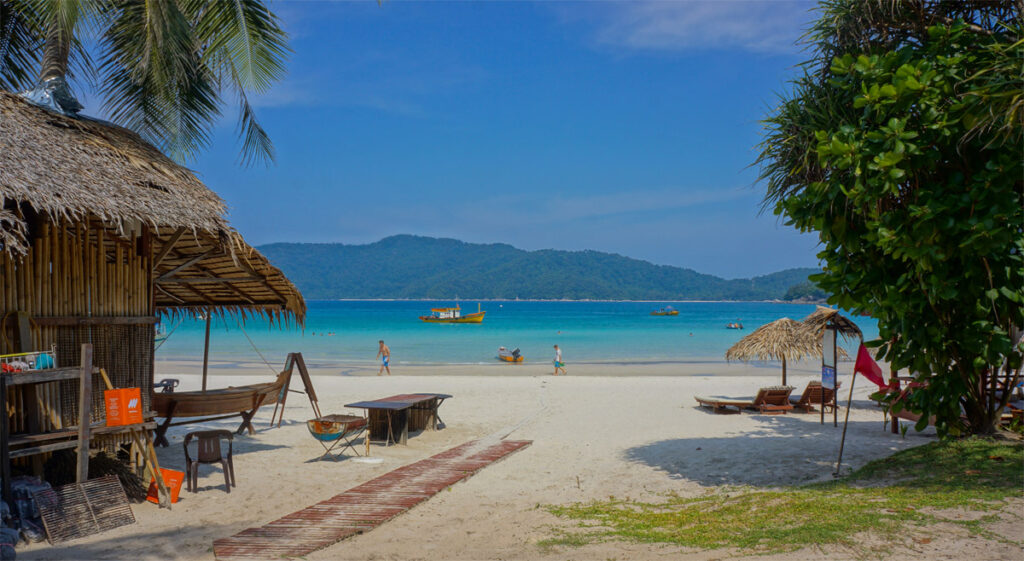 THE WILDLIFE
Those travelers that are less enthusiastic about the local wildlife should be warned: there were plenty of monitor lizards, poisonous spiders and geckos to be found. While I kind of uncomfortable seeing the monitor lizards and the spiders, I happen to love watching these geckos hop around the ceiling in search of mozzies, and I preferably would leave my outside light on when I left for dinner in order to get them some tasty treats.
DIVING DEEP
And then there is the different aspect of wildlife under the sea. Huge sea turtles, clownfish, big blue-spotted rays and black-tipped reef sharks are exceptionally big in numbers. Most resorts located on Kecil will have their own snorkel rental and day-long snorkeling trips that are well worth it. A highlight: climbing and jumping off of a tall lighthouse and into the deep sea below. For the scuba-divers, there are several diving outfits you could find on each of Coral Bay and Long Beach who will take you out to "the Pinnacle", a stretch of land projecting upward from the seabed and the surrounding Malaysian islands.