Tired of searching for "interesting things to do in Malaysia", because you'll know that gets you nowhere. Sure, the Petronas Towers and the dozens of national parks across the border are nothing to be fascinated about, but you're on the hunt for something that will give you considerable bragging rights. Malaysia is full of hidden gems, some of which certainly wouldn't fly if they opened in Singapore. So take a wild trip across the Causeway and sniff these experiences out.
BE SERVED BY FRENCH MAIDS IN KUALA LUMPUR
No doubt this resemblance was taken off straight from of a Japanese utopia. If cute girls and fancy uniforms are your cup of tea, head down to Moe de Cafe. This themed cafe is a refreshing visual eye candy treat for fans of Japanese anime culture, from the attractive waitresses to the cartoon sculptures. The cafe is also lined with scores of manga series which are available to read for free.
SLEEP IN AN EUROPEAN CASTLE IN BERJAYA HILLS
What is better than getting the royal treatment without the need to fly halfway across the globe? With low amount of money, you don't have to be a king to stay in this castle! Colmar Tropicale is a virtual French village equipped with manicured gardens, fountains and even a feudal drawbridge. Ride proudly on a horse or mule, or frolic so you will feel like French royalty. For weird reasons, there's also a Japanese village happen to be here where you can take a complete 180-degree turn and stumble around in clogs and a kimono – pretty fascinating indeed!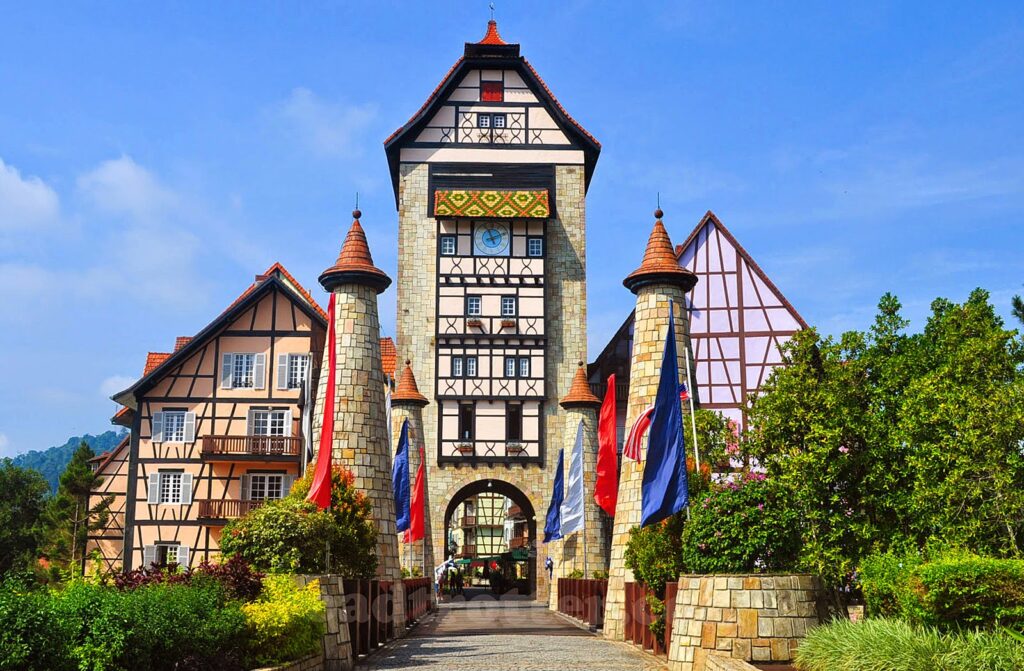 STAY IN A FOREST TIME CAPSULE IN PAHANG
The Time Capsule Retreat is every minimalist's dream – a simple yet elegant and cozy lair nestled by the lush virgin forests of Kuantan. Each capsule room receives sufficient sunlight by day and warm lighting during the night time, and is fitted with air conditioning. Get a great soak in a serene open-air Jacuzzi nearby, while overlooking the beautiful flora. This is a privately-owned retreat known, so it is guaranteed that your peace and quiet is perfectly secured – simply book with them online or over the phone and there you are!
ESCAPE FROM A THEMED HAUNTED HOUSE IN JOHOR BAHRU
You must have heard of escape rooms: themed rooms with a story where you got to solve the puzzle to break out before time is up. What about an entire house that's haunted and seemingly alive? Lost in JB's Sutera Haunted House which has four creepy themes for you to escape from, and while limited information is available on the routes – is an exhilarating adventure! – It looks like you have to navigate multiple storeys; corridors and even take a lift that I'm pretty sure will break down.
SLEEP AMONG FISHES AND CORALS IN KUALA LUMPUR
This hotel takes the term 'boutique' to a whole new level. Freely to choose from a large range of elaborately-themed rooms, from a spacey galaxy suite to a fairytale room with a royal carriage as sofa. Hotel Maison Boutique happens to have rooms that aren't as loud but are equally magical, such as the Atlantis room – where you will sleep on a sea bed, surrounded by real marine life. And the biggest attraction is that you may try out multiple themes during your stay! You can switch out to another room with a different theme you'd like to try on your next night.