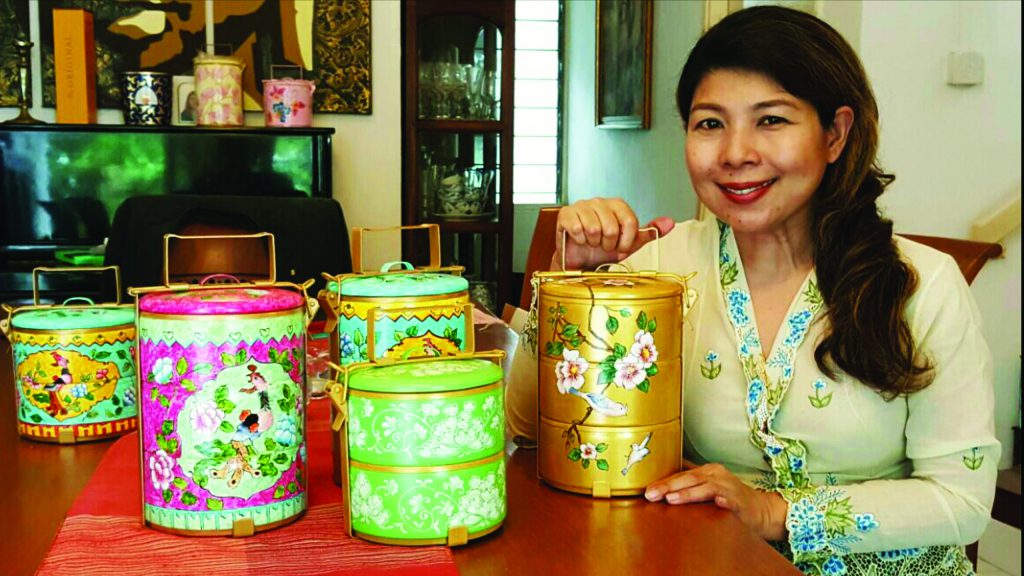 Reviving Grandma'S Precious Food Gem
Forget about polystyrene packs for a moment. Remember the good old eco-friendly way of carrying food by your grandma – "tiffin" or "mangkuk tingkat" in Malay. It may be forgotten today but Junie Hussein brought it back to life as a cherished work of art.
A Singaporean Straits Chinese-mix or Peranakan, Junie Hussein is also known as the Tiffin Lady by her friends. Her interest in tiffin started when she was six years old, watching her grandma use the enamel Peranakan tiffin to pack lunch.
But Junie didn't take tiffin art seriously until she bought a cosy little apartment in 2012. Eager to have some decorative tiffins to be displayed for the house warming party, she decided to paint her own tiffins after she couldn't find a suitable one in the market.
It was a failed attempt in the beginning but soon, she mastered the skills of tiffin art and her friends encouraged her to paint more tiffins. Junie saw this as an opportunity to do something philanthropic. Hence, she also trained two single mothers to assist her.
Since that day, Junie has designed over 300 tiffins ranging from floral to animal motifs, classic to modern styles and batik to pastel designs. She drew her inspiration from many cultures including Peranakan, Malay Jawa, Chinese, Indian, Middle East and European influences.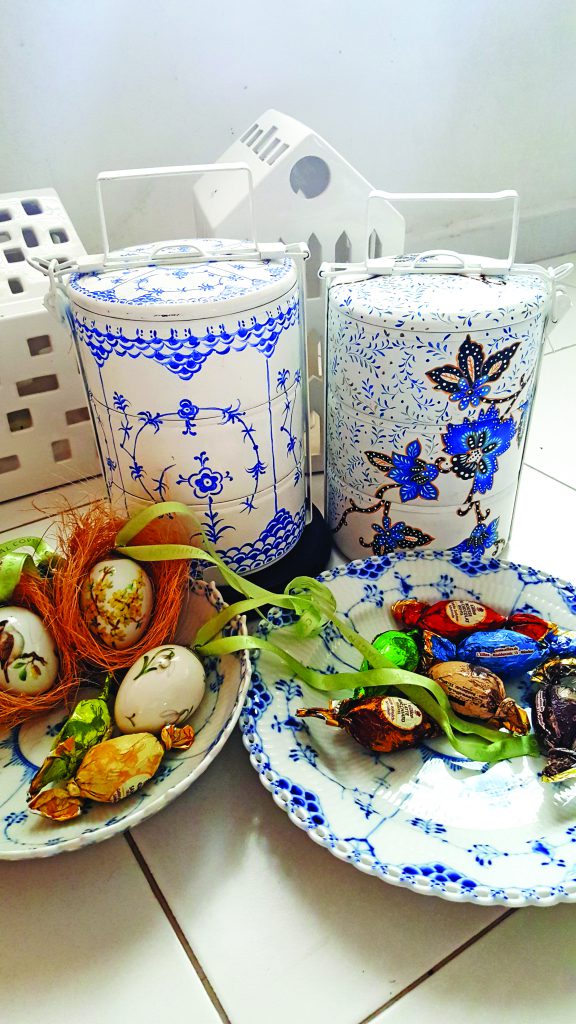 Tiffin: The Olden Day Lunchbox
The origin of tiffin has sparked many debates. Tiffin has been used for centuries in India and known as dabbawalla. The first and earliest enamel Peranakan tiffins found in Singapore were from Czechoslovakia in the 1920s.
Tiffin was popular as "lunch box" in the olden days. Today, there are still countries producing tiffins but the demands are slowly diminishing with the use of plastic and polystyrene boxes.
The European manufacturers such as Czechoslovakia, Sweden, Germany, Hungary and Austria mostly produce enamel tiffins while the stainless steel or aluminum tiffins are produced by Thailand, China and India.
According to Junie, the Peranakan community love the tiffins which were manufactured in Europe as they tend to have an affinity with the British. While the British adopted the Indian dabbawalla, the Peranakan wanted to be unique.
The result, Peranakan tiffins have bright and colourful floral motif on one side while the other side was painted with Peranakan greetings like Slamat Pakkey (Happy Using), Slamat Angkat (Happy Carrying) and Slamat Makan (Happy Eating). As a mixed Peranakan, Junie feels tiffin art has some emotional connection to her heritage.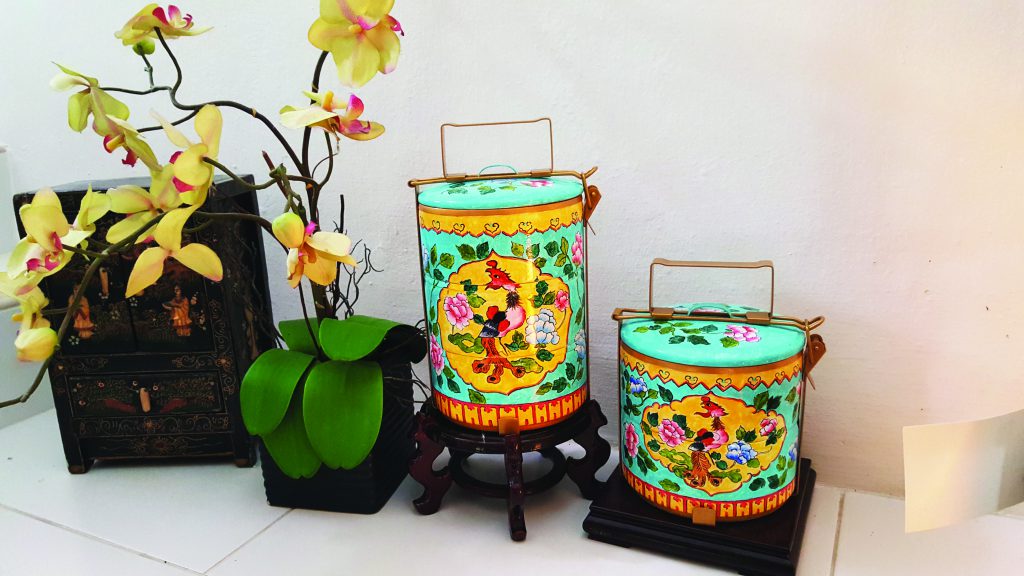 From Art to Heart with Tiffin
Tiffin is not an easy work of art. It is a labour of love which can take up to five weeks to complete. Unlike canvas or other easy-to-absorb surfaces, painting on stainless steel surface requires four to eight coatings. This is because one coating is not enough to make the paint stick on the surface.
The painted stainless steel tiffin then needs to be dried in the open and this will take about 3-4 days per coat. And how fast it will dry will depend on the weather condition and the surroundings. The tiffin will then be heated or "baked" to ensure the paint sticks strongly.
Junie only uses quality Zebra brand tiffins as the base and paint only the outside to ensure hygiene and food safety. The finesse of the art is evident with every 5-6 painstaking hours involved to paint and dry and paint again layer by layer. And this can go up to 8 coatings. In addition, Junie's tiffins are painted on both sides, sometimes with two slightly different motifs.
Although it is painstaking to paint, there is nothing more gratifying knowing her work of art travels as far as Europe and America. Her customers include expatriates, tourists, restaurant owners, interior designers and companies. Junie received lots of praises and thank you notes because her tiffins struck an emotional chord with many people – as a gift of the heart.
Words & Photos by Francis Yip