The problem which we usually face whenever we want to go for vacation was when you have pets and you have to leave them behind. If you're lucky, you've got someone at home that can help to look after them while you're gone. If you're not fussy, you can always board them at pet hotels, but many are still wary about leaving their pets (especially dogs) at pet hotels, for personal reasons. Fortunately, there a few places that can make your "taking your pet on holiday" dream come true! Yes, it's nearly possible now. Let's check out few hotels and resorts that are pet-friendly in Malaysia.
RUBY'S RESORT, CHERATING
Ruby's Resort is located on the beautiful beach side of Cherating in Pahang, Malaysia. This rustic and comfortable resort, which offers a series of colorful wooden cabins with paneled interiors, lives up to its tagline "A Home Away from Home" perfectly! The resort opened in 2007 its series of chalets come in different configurations to accommodate various sized groups and budgets. More importantly, it's an absolute haven to your furkids – both cats and dogs.
Address: Lot 350, Jalan Kemaman, Kg. Chendor, Cherating, 26080 Balok, Pahang, Malaysia
Phone: +60 16-938 1298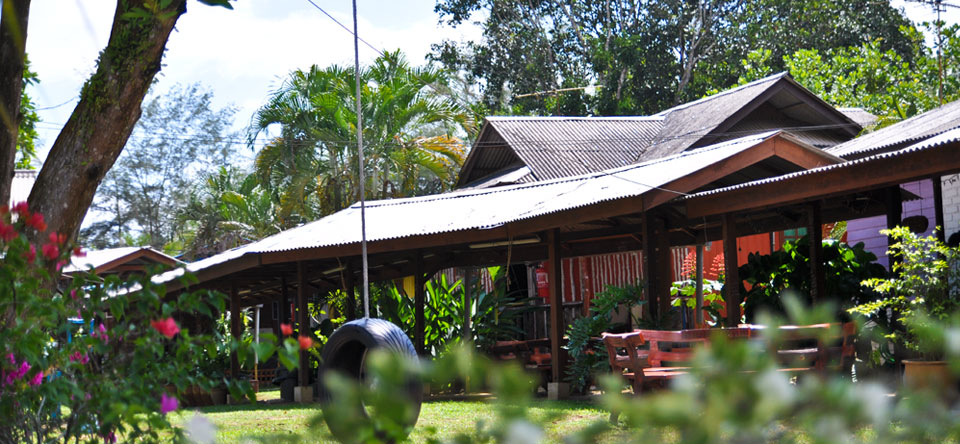 TEMPLE TREE AT BON TON RESORT, LANGKAWI
If you're ready to splurge on that little getaway with your furkid(s), this place is a treat and a half! Situated in quiet area, the Bon Ton Resort Langkawi is built within the grounds of coconut plantation, featuring comfortable accommodation in serene environment. It's 10 minutes' drive from the Langkawi Airport and 5 minutes from the main beach of Pantai Cenang. Few places of interest in the vicinity are Tanjung Rhu, Rice Museum, Laman Padi Langkawi, Telaga Tujuh Waterfalls, Pulau Payar Marine Park, and Lake of the Pregnant Maiden.
Address: Pantai Cenang Kedah Darul Aman, Pantai Cenang, 07000 Langkawi, Kedah, Malaysia
Phone: +60 4-955 1688
BORNEO HIGHLANDS RESORT, KUCHING
This is perhaps one of the most exciting and uniquely environmentally-friendly resorts on the other side of Malaysia. Snuggled within the hills 1000 meters above sea level, the Borneo Highlands Resort in Kuching is a retreat that's one of its kinds! Located amid untouched natural beauty of the lush tropical rainforest, it's the perfect getaway where one can escape from the hectic city life. We say "where one can escape" but we really mean, "where one and his/her furkid can escape". That's right, pets are allowed here!
Address: Lot 1269 Block 17, KCLD, Jalan Lapangan Terbang, 93250 Kuching, Sarawak, Malaysia
Phone: +60 82-577 930
NOORDIN MEWS, PENANG
Noordin Mews is Penang's newest private boutique heritage hotel, a welcome and refreshing addition to the already vibrant Penang tourist attraction. Mews was originally for trishaws and hand carts as well as the servants' quarters for the wealthy families who lived in Noordin Street in the first decades of the last century. Set in a walled tropical garden with its own private swimming pool, the main building is a classic 1920s Peranakan shop house in straits eclectic style with its own laneway.
Address: 53, Lebuh Noordin, 10300, Pulau Pinang, Malaysia
Phone: +60 4-263 7125
VALLEY VIEW, CAMERON HIGHLANDS
Want to enjoy a highland holiday without having to leave your beloved fur kid behind? We've got what you're looking for! Enjoy a great highlands holiday for you, your loved one(s), and your furkid(s) at Valley View bungalow. The bungalow is nestled on a hilltop surrounded by 2 acres of lush greenery, flower gardens, fruit trees, and vegetable plots. It's huge so it's pretty ideal for family holidays and group getaways for people of all ages.
Phone: +60 5-495 7827 or 012 5473942