When you are speaking about Kuala Lumpur, what the first comes to your mind? To first time visitors to the Malaysia's city of lights, they will never forget the different kind of architectures of the buildings that decorated the city from here to there, filling up the empty spaces with skyscrapers and edgily designed residencies that have been the landmark of the city itself. Riding across the city with the bus provided for the tourists, Go KL, Kuala Lumpur will never fail to amaze you with its certain charms that goes beyond the beautiful buildings, it was the characteristic of the city itself – lively. The city that never sleeps at night offers things that you might not get anywhere else.
SHOPPING HAVEN
Meanwhile others might be familiar with the hype of the Bintang Walk, the landmark that inspired from Hollywood Walk of Fame. While the western side is more known to its entertainment histories that surround it, the one in Kuala Lumpur is mostly known as the shopping haven for locals and foreigners. From high-end luxury fashion items to the locals discounted products, Bintang Walk serves all despite of ages, classes and tastes. Popular items sometimes are sold at a very considerable prices attracts customers from various backgrounds, selection of items that they couldn't look elsewhere and the services provided are totally priceless.
ALL YOU CAN EAT
When it comes to food, the city speaks for itself as the world's famous food street that resided along Bukit Bintang, offers great bargains for food from local Asian delicacies, traditional Malay food and combination of contemporary blends of Arabic and Indian styles of cuisines. There are no other places in the world where you can find different countries' specialty food under one roof but in Kuala Lumpur, Malaysia it has been made possible. For first time travelers, it is a must to visit the stalls located along Bukit Bintang and once you get a taste, you will surely be craving for more.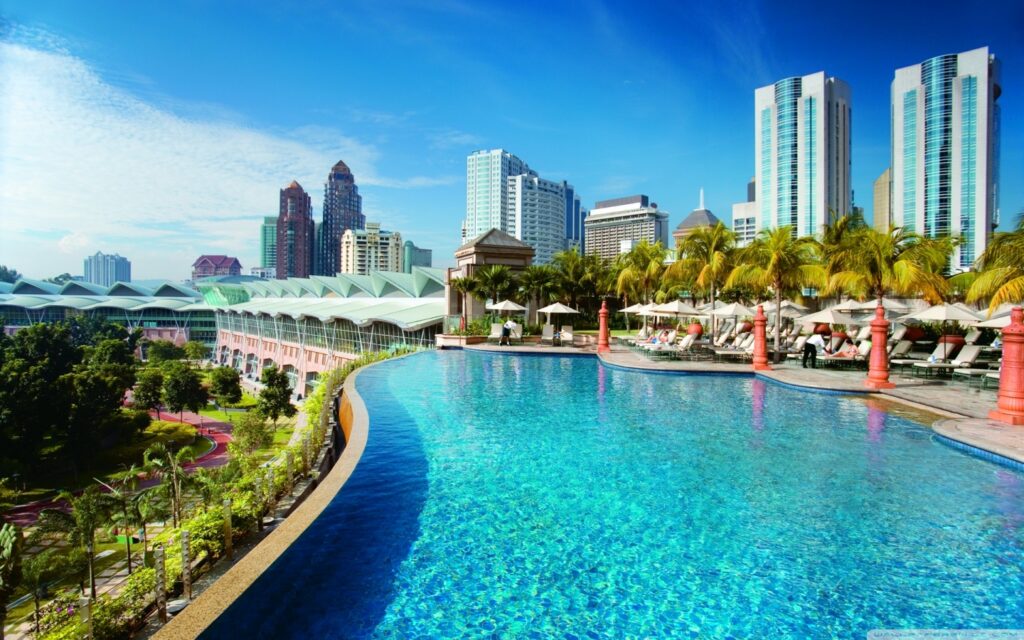 ATTRACTIONS AND ACTIVITIES
Kuala Lumpur, despite of its reputation as one of the top world class modern city it also rich with nostalgic places and panoramic scenery that spawns scenic landmarks such as the Lake Garden and the well kept forest reserve at FRIM to name a few, are among the most sought after places that people will look out for to do variety of activities. For tourists that love to capture the essence of the city itself, you can take a walk through the strict corridors of Istana Negara mostly known as National Palace or stroll along the National Mosque and you will find yourself surrounded with interesting architecture that formed the city itself from your right to your left.
EDUTAINMENT AT ONE PLACE
If you are looking for entertainment and education leisure, say no more as Kuala Lumpur housed among the best world class edutainment facilities to date. Planetarium Negara and Petrosains are one of Malaysia's high end edutainment centers perfect for people at all age. Besides continuously providing exciting learning experiences for visitors, they occasionally houses spectacular exhibition twice a year on many exciting topics that covers science, technology and history. Excellent atmosphere and convenient parking facilities provided for easy access to the places.
THE CITY THAT NEVER SLEEPS
Visitors from all over the world regard Kuala Lumpur as the city that never sleeps as it is best known for its lively night life throughout the weekends. Night bars, entertainment pubs and discos opened to public looking for a place to chill out at night. Elegant restaurants for romantic dinners for two can easily be found when you are walking along the road from KLCC to Bukit Bintang, disregards the types of cuisines that you preferred. A tour across the city at night is like a mystical fantasy brought to life, it will forever captivate you for its own charms. – Nightlife in Kuala Lumpur
The best thing about Kuala Lumpur at all senses, is actually the easy access of transportation that it provides be it the friendly cabs, convenient tour buses or the famous train that spread from Kuala Lumpur to Damansara area. To the people that prefer walking, you can easily reached KLCC and Bukit Bintang in a flash by following the bridge that built from KLCC Convention Center and stretched towards the Pavilion shopping mall. Everything is here right in Kuala Lumpur, without hassle and best thing is there's plenty for the city to offer for its visitors.