Feels like running away from your daily routine? Want to have a short break from the congested city? Many of us may think that mountains and rivers like the scenes of "Lord of The Rings" may only exist in overseas: most of us got it wrong. Next Trip had gathered some of the astonishing jungle retreat to rejuvenate your soul!
SEKEPING SERENDAH
Founded by Seksan Design, Sekeping Serendah is conveniently located at Serendah Selangor, which can be reached easily as it was around 1 hour away from the heart of Kuala Lumpur. It consists more of 10 different types of architectural masterpieces: 2 larger glasses made chalets, 2 wooden chalets, 2 container inspired chalets and 2 made of concrete.
THE SHOREA
Located in Jelebu, Negeri Sembilan, The Shorea is a definite boutique retreat chalet. There are at the moment a total of 4 luxury looking chalets here, each fully facilitated with an individual kitchen. A larger kitchen is built typically for sharing as well, thus this is one of the retreats that permits to make yourself a great meal, while being accompanied by the unusual mystic scenery around you!
Address: Village Kolam Air, Mukim Pantai,, Jalan Jelebu, 71770 Seremban, Negeri Sembilan, Malaysia
Phone:+60 17-300 5600
THE DUSUN
Also another high class retreat located here in Negeri Sembilan, The Dusun consists of 5 chalets, each come with unique interior and distinguished exterior designs. From each and every one of the building, you will be able to enjoy the beautiful and breathtaking scenery of the nature. A total of 19 visitors are able to be accommodated in the largest chalet in The Dusun.
Address: 3437, Kampung Kolam Air Mukim, 71770 Seremban, Negeri Sembilan, Malaysia
AWANMULAN
Awanmulan is strategically located in Jelebu, Negeri Sembilan. It is spaciously built into 3 large rooms and 2 independent chalets. The retreat's anticipating part; the swimming pool was built in such a way where the guest would felt that as if they are swimming on top of the hill.
Address: Seremban, Negeri Sembilan, Malaysia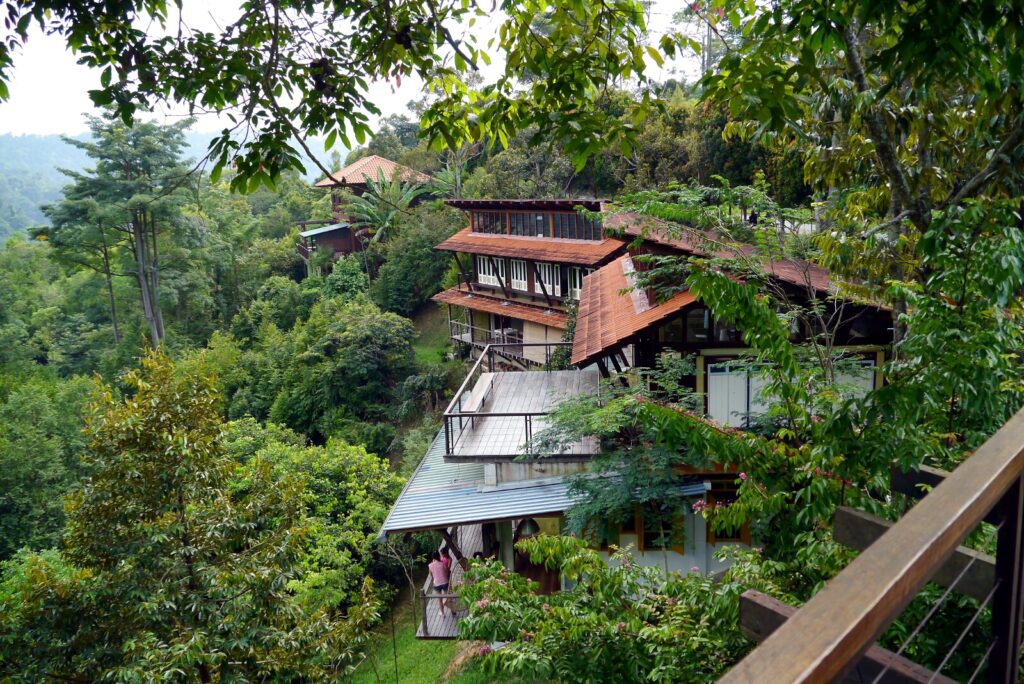 CASABRINA
While you were staying in the City Center, Raub Pahang there is one of the nearest small towns near Kuala Lumpur. The place known as Casabrina is a 6 star retreat which is located in Raub, Pahang. Raub is better being well known for its rain-forest in Pahang, (and of course it was also being well known for the Durian during the season!)
Address: Lot 1460, Jalan Tras, Mukim Tras,,,, 27600 Raub District, Pahang, Malaysia
Phone:+60 9-361 5242