Penang is the part of the country which is often bring overlooked by the tourists, who prefer the golden beaches of the east coast or paradise islands such as Tioman or Langkawi. Our recommended destination today will be Penang; an island my Malaysian friends tell me has suddenly become one of south-east Asia's hottest destinations.
KL is the major modern face of the country, also being called the skyscraper city of the future, where Blade Runner meets Bollywood. There are quite a few reminders of the complex history of a country that declared independence from Britain only 55 years ago. Driving out of the center you will immediately find yourselves lost in a extensive metropolitan frame as menacing as Los Angeles, and it is only with a little luck that you manage to reach the busy north-south highway.
The road is totally surrounded on both sides by progressing hills, marked by symmetrical lines of palm oil and rubber plantations that flourish along the way. The scene resembles an Escher drawing, and however there is still a little trace of the dense rainforest that once successfully covered most of Malaysia. After you've been going for almost an hour, the landscape begins to change drastically and dramatically, with massive limestone ridges hurdling hundreds of rocky feet out of the flat prairies. If you look there up on the hill, a giant but rather shabby billboard says that you have just arrived at Ipoh – City of Millionaires, and the first stop-off.
Soon you are sitting in the legendary Sinhalese Bar, the only Sri Lankan bar in Malaysia, whose decor is unchanged since it is opened in 1931. You will be sipping a Tiger beer in an iced glass so cold it can almost takes the skin off your fingers, and talking to your guide for the next few days, Hong Law Siak, who happens to run the local heritage association.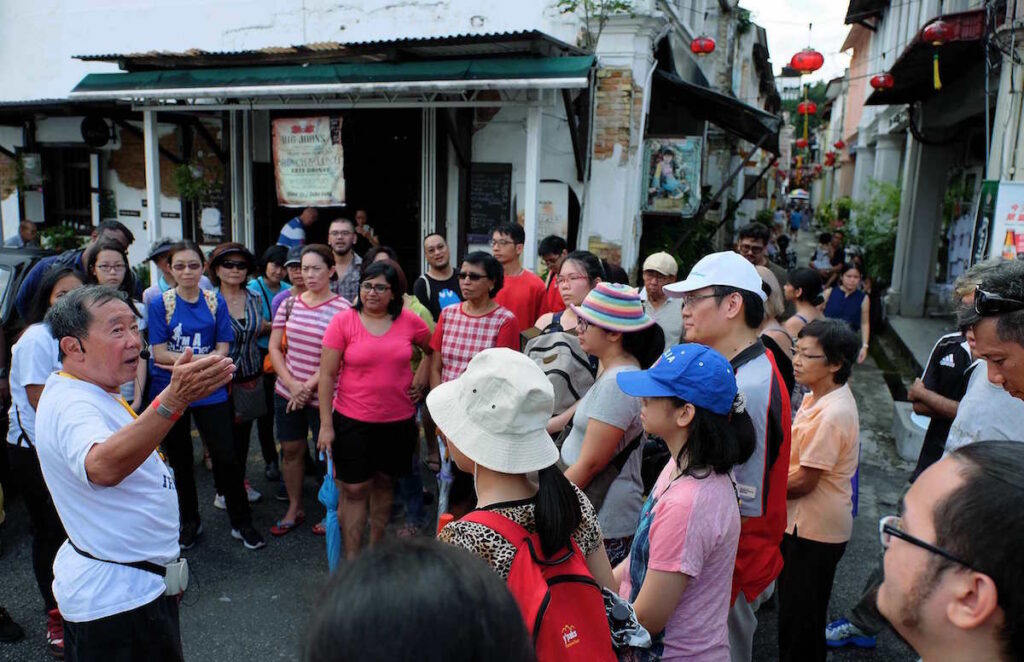 You leave the bar and begin to wander along the street. Hong will point out decorative Chinese clan houses, an abandoned photographer's studio from 1960s with black and white prints in the window and a Madras textile shop, where the aged assistants still wear dhotis, jotting sales into a dusty, giant ledger, and an ancient poster which is quite old hanging on the wall declares that their checked sarongs were once made in British India.
The next thing you know you will disappear down the narrow Panglima Lane – known as Concubine Lane when it was previously lined with gambling and opium lairs, brothels and the discreet residences of the many concubines that is kept by these rich Chinese tin tycoons. You'll not surprised when Hong tells you that Ipoh was used as a backdrop for the old French film Indochine, starring Catherine Deneuve, which foretells the story about the final days of French colonial rule.
A huge surprise when discovering the diverse cuisine of Malaysia has always remains one of the most exciting parts of travelling here, and Ipoh is definitely no exception. Hawker stalls stood gracefully around Pasar Besar, the teeming wet market, specialize in kway teow – wok-fried rice noodles with egg, prawns and juicy cockles – pork satay, paper-thin poh piah or better known as spring rolls stuffed with bean sprouts, and clay pot chicken. Indian restaurants however do offer a dozen different types of curries around a mountain of rice on a banana leaf which never leave its original taste. But the best meal which you should try here is Malay nasi kandar, a self-service feast with at least 40 dishes to choose from, where a plate heaped with delicious okra and bitter gourd, spicy beef rendang, squid and fish curry that will cost you less than two pounds.
The next day, Hong turns up in his car again to drive you around the surrounding Kinta valley, where there used to be 1,000 tin mines. These are now just deep, manmade lakes. Today, virtually none of the mines is still functioning: however there is still tin beneath the ground, but the process of extracting it is far too expensive.