Koh Kood is home to a dining experience high up on the trees, against a lush tropical forest and overlooking the seas for  foodies to get a sense on how Tarzan and Jane would celebrate a fancy dinner.  
As a child, I believed everyone once imagined they are someone else when playing in the treehouse. The attraction of climbing up to the trees and let your imagination roam became an inspiration for Soneva to build a treepod for dining. This exclusive experience is found in Soneva Kiri Resort in Koh Kood, an island off eastern Thailand.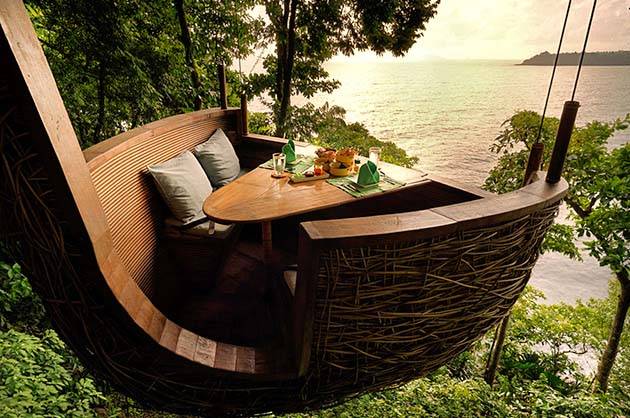 Environmentally-Friendly Dining
One of Soneva's most applauded achievement is their commitment to the environment in the creation of their resort. With nature in their mind, Soneva Kiri transforms fine dining to another level as they introduced private dining in a treepod; built using organic materials such as bamboo and wood. The design of the treepod closely resembles a bird nest that sits on top of a tree branch.
You will enjoy the serene stroll along the jungle path before you board the pod on the ground and be slowly hoisted up to the sky. The treepod can accommodate up to four people to share the excitement and delight in such a feast, rich with the sound of nature and wind.
Surrounded by the lush greenery of Koh Kood tropical rainforest, you can enjoy dining at 16-feet off the ground with a vast view of the clear sea and island. You will also be amazed by the flying waiter who delivers your Thai food through a zipline in acrobatic style.
The Journey Into The Woods
To enjoy this elevated dining experience at Koh Kood, you can arrange a private plane with Soneva resort to fly you directly to the island from Suvarnabuhumi Airport. For other mode of transportations, you can take a speedboat from Laem Sok Pier at Trat which is 30km away from Bangkok. You can fly directly from Suvarnabuhumi Airport to Trat airport via domestic flight or reach there in 4 to 5 hours on road. A careful planning will have to be done as the last speedboat leaves the pier at 2.20pm, local time.
This luxurious three-course dining in a canopy of trees is definitely a once in a lifetime experience for city people like us to rejoice in the beauty of nature.
Soneva Kiri
110 Moo 4, Koh Kood Sub-
District, Koh Kood District, Trat
23000, Thailand
reservations@soneva.com